ESAYDE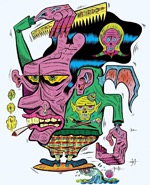 Brian Warner, also known as ESAYDE is a visual artist based in Washington. Growing up, he was influenced by 80's skateboard graphics, old comic books and the advertising art of yester year.
These inspirations are the foundations of his current work.
Now he has many client companies that Mad magazine,Creature Skateboards,Santa Cruz Skateboards,Snack Skateboards,NBC Sports,Oakland Athletics,Midnight Cruiser Records,Storytime Records,Graveyard Shift Clothing,SF Skateclub etc.
アメリカ・ワシントン州を拠点に活動するアーティスト。
80'sスケートボードアート、古き良きアメリカンコミック、広告デザインなどに影響を受ける。
現在ではMad magazine,Creature Skateboards,Santa Cruz Skateboards,Snack Skateboards,NBC Sports,Oakland Athletics,Midnight Cruiser Records,Storytime Records,Graveyard Shift Clothing,SF Skateclubをはじめ、メディア、スケートボードブランド、メジャーリーグ球団、レコードレーベルなど数多くの企業にアートワークを提供している。
www.totalweirdo.com